China Arnold's 2011 Trial: Attorneys Give Opening Statements
Re-printed from a story at Dayton Daily News on May 3rd 2011
Video provided courtesy of CNN.com and Nancy Grace.
DAYTON - China Arnold, on trial for her life for the third time in three years, sat quietly as attorneys mapped out opening statements familiar to those who followed her first two trials.
Assistant Montgomery County prosecutor Dan Brandt said that Arnold, now 31, killed her baby in a microwave oven on August 30, 2005. She was the only caregiver at her home when the child died between 1:15 and 3:15 a.m., Brandt said.
He also said that Arnold admitted her crime, telling her boyfriend Terrell Talley that "I killed my baby."
Defense attorney Jon Paul Rion said that, at the time Arnold made that statement, she did not know how 28-day-old Paris Talley died and instinctively blamed herself, thinking she may have rolled over on the baby while they were sleeping together on a couch.
"What you have heard is not true," Rion told the jury. "Her own daughter, Paris, was murdered, or killed, but not by China."
Rion said Arnold was extremely intoxicated that night and passed out on the couch. He did not say who killed the baby, but noted a witness would testify she saw a boy enter the residence in the middle of the night.
The first witness for the prosecution was Russell Uptegrove, a forensic pathologist who performed the autopsy on Paris. Arnold declined to stay in the courtroom during that testimony, as she had in her previous trials.
If convicted of aggravated murder, Arnold could face the death penalty. The trial opened April 25, but jury selection took six and half days, much of it dealing with death penalty attitudes, the effects of pre-trial publicity and availability for a four-week trial.
Unlike the first two trials, in 2008, there was no jury view. Arnold's former residence, 415 Hall Ave., was part of the Parkside Homes housing complex that has since been torn down.
The first trial ended in February 2008 in a mistrial after a boy said he saw another child put the baby in the oven.
Arnold was convicted of all charges in September 2008 and sentenced to life without parole. The Ohio Second District Court of Appeals reversed that conviction in November.
UPDATE 5/13/2011:
On May 13th 2011, an Ohio jury found China Arnold Guilty of Aggravated Murder. This made Arnold eligible for the Death penalty. If she does receive a sentence of Death she will be on Death Row for the next 17-20 years as she goes through the standard and lengthy appeals process designed to further humiliate society's condemned.
UPDATE 5/20/2011: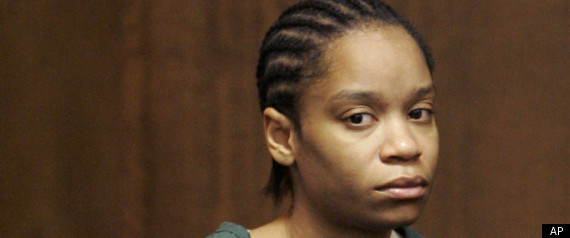 On May 20th 2011, a week after being found guilty of killing her own child, an Ohio judge sentenced
China Arnold to Life in Prison
sparing her life.
This is the third guilty verdict for China Arnold who made national headlines by brutally murdering her own infant child in a microwave oven in Southwest Ohio.
References:
Wikipedia, China Arnold
Dayton Daily News, China Arnold 2010 Trial
Dayton Daily News, China Arnold 2011 Trial